Back to School: HP Officejet 4500 Wireless All-in-One Printer Review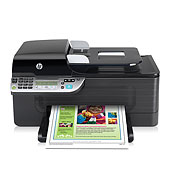 As back to school is upon us once again, I know many folks are going to be on the market for new supplies and gear. When I needed my own printer to take to college with me, I lucked out in that when I bought a laptop, the back to school special at the electronics retailer I hit up got me my little Canon printer for free! However, if you're on the market to actually pay cash money for a machine, I reviewed a unit from HP that I wanted to share. The HP Officejet 4500 Wireless All-in-One is certainly a mouthful. Here are some key things to know: it is in fact, a true all in one device-- it can print, scan, copy, and fax. It is modeled with an upper tray paper feed and a regular one, which makes it look a lot more like a "professional" printer than a regular home model. It has wireless capabilities, so you can hook it up to your home network and send documents to print without beng hardwired, which to me is always a plus. It's quite pretty, aesthetically. Finally, it only costs about $95, depending on where you purchase it (that quote came from Amazon).  For the price, even if some of the "all-in-one" functionality were broken, you'd have a solid printer purchase!
However, I must remain unbiased by a good deal and tell you everything I know regardless. Setup was, while relatively painless, not the most intuitive. For example, the machine did not prompt me to connect to my network or key in my password when I turned on the wireless function. Likewise, it doesn't come with a manual, (instead you have to download it from the web), so it was pure troubleshooting that landed me in the sub-sub-sub menu where I could connect it to my  home network to print wirelessly.
Additionally, for whatever reason, and maybe my unit was a lemon, the bottom paper feed tray was off in some way, causing the display to continually tell me I needed to load paper, no matter how many sheets I already had in there and fiddled with, shifting them left and right and up and down trying to convince the printer that it did, in fact, have paper in it already.
The actual print quality of documents is solid. Pictures, however, is a whole different story. I printed the same picture from two different HP printers, this Officejet and a Photosmart, and the Photosmart came out considerably and very obviously better. I was surprised at just how great the delta was. Next to the dedicated photo printer, the Officejet did a terrible job! The colors were washed out and the picture looked like it was done in stripes.
All in all, I loved the look of the printer, and the solid feeling keypad. I appreciated the clarity of the choices you can make while you're using it-- the display shows you that you're in "Color Copy" mode, and you can use the side arrows to move into "Black & White Copy" mode, for example. I think the price is right. However, I did not like the weird "no paper loaded" glitch that my printer had, as well as the photo print quality.
I thought the initial setup could have been smoother, at least in regards to coaching the user through the first setup of his wireless network. Finally, weirdly enough, it takes forever to "shut down." (Which is apparently what is happening in the background when you press the Power button to turn it off.) Given my experience with it, I would still question whether this was the right printer for me. However, given the collection of comparable printers in the same price neighborhood, this all-in-one can still be a pretty appealing purchase.