Review: Barnes & Noble Nook
How heavy is your purse?  How many things do you carry in it?  How many individual gadgets? With the advent of devices like the iPhone, I have, like many women, been able to trim the "fat" from my bag.  I've combined my cell phone with my music device with my GPS and stash multi-use makeup/beauty tools, among other things.  However, I almost always have a book in my purse that adds some heft.  I love the feel of a book in my hands and the idea made me wary, but in an effort to streamline, I decided to see if an ebook reader could further lighten the burden on my shoulder.  I decided to crack open a Barnes & Noble Nook. (Note: no gadgets were harmed in the making of this review.)
Announced by Barnes & Noble last October, but only widely available within the last 2 weeks, the white Nook could be confused with the more popular Amazon Kindle.  Although I only reviewed the Nook, I did consider both devices. They both fit perfectly into my purse -  at 7.7" x 4.9" x 0.50", the Nook is almost the same size as the Kindle, which measures 8" x 5.3" x 0.36", but much smaller than most of the books I read. They are comparably priced with the Nook available online and in stores for $249 and the Kindle online only for $259.
But how about the weight? The whole goal WAS to lighten my purse.  The Nook actually weighs in at 12.1 oz, while the Kindle is only 10.2 oz. Definitely a positive for the Kindle.  However, the pluses seem to stop there. The rest of the specs favor the Nook (full comparison here):
Nook has a color touch screen for navigation and to browse for content
Wi-fi AND 3G connectivity for instant downloads (Kindle only connects via wireless)
Larger reading area (Kindle's is diminished thanks to an awkward keyboard)
Micro SD memory expansion
After buying my Nook in store, I ran home to give it a try.  It was sitting so pretty and Apple-minimalist in its rigid plastic packaging.  That damn. Plastic. Packaging.  It took a good few minutes of examining and pulling the plastic apart, much like a puzzle, before I could even get to my Nook!  Maybe I'm just dumb.  But maybe not! Because once I got it out of its case it was a breeze to start browsing and exploring.
You have to sign up for a Barnes & Noble online account, then you use the color touch screen on the Nook to punch in your email address to register the device to your account.  The touch keyboard was not as easy to manipulate as an iPhone/iPod touch's but it was still pretty responsive.  Submitting the registration over air took mere seconds. I then set up my home Wi-fi and started to check out the content....after making sure there was a credit card on file on my BN.com account.
Browsing the store is intuitive - there's books, magazines, newspapers, etc.  Most major new releases are available, as well as popular authors.  Many books are $9.99 or LESS!!  Many classics are available for $0.99 and there's free content, too.  Since I LOVED The Time Travelers Wife, I decided to buy Audrey Niffenegger's 2nd novel: Her Fearful Symmetry. It downloaded quickly and I quickly lost my apprehension over ebooks. Although I was not turning the pages manually, or smelling the book, or feeling the paper, I was still able to become engrossed in the reading experience, mostly due to the excellent E-Ink contrast.  The text was easy to read in good light, but I had a hard time seeing once the light started to fade (yes, I'm one of those that will read a book well into poor light). This is easily remedied by turning on a light or buying a small attachable lamp.  The pages turn quickly and the "Reading Now" button on the touchscreen takes you to the last page you were on.  As someone who is forever losing bookmarks, this is a very handy feature.  Another handy feature?  A battery that lasts for daaaayyyss!  I am definitely impressed by how few times I've had to plug in my reader.
Further adding to my reading experience was the purchase of a soft, black, leather case ($34.95). The Nook is held in place on the right, almost creating a sensation of holding an actual book.  If style is important to you, there's plenty of cases to choose from: from vintage-y linen to gorgeous, fashion forward designed by Kate Spade to gel...cover...things.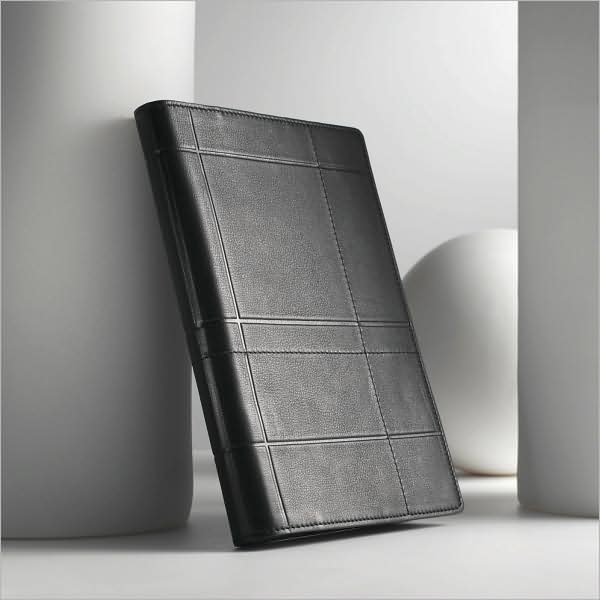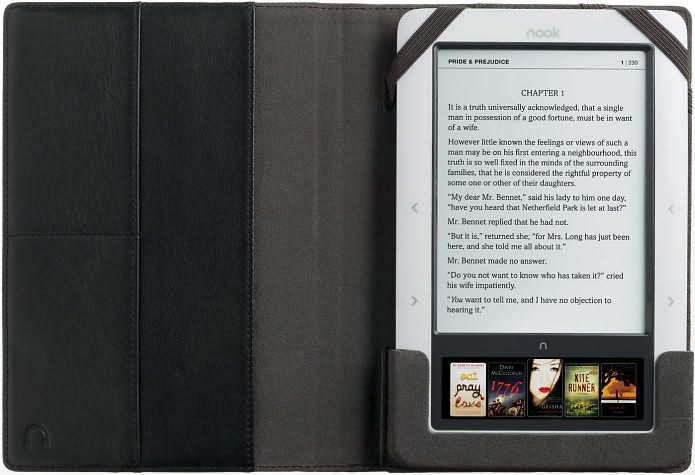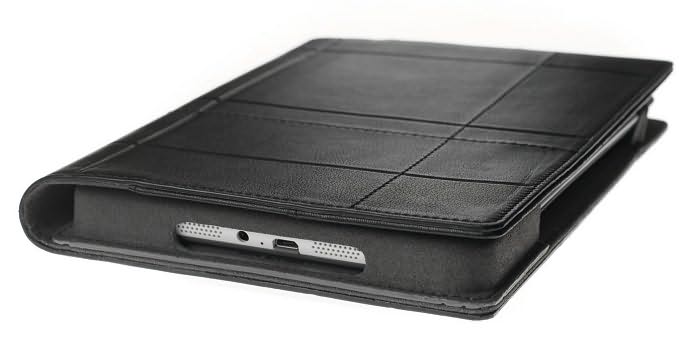 All in all I went from skeptical bookworm to obsessed ebook reader reader (?).  I love the Nook and highly recommend it to anyone who reads a lot, needs to save space in their bag, wants to have lots of reading material available at once or travels a lot, among others.
Do you have one? What's YOUR thoughts? Would you get one?